Poodle Bitch does try to keep up with the latest trends. She believes it helps to keep her young. Nevertheless, she has only heard of the human called Aubrey O'Day from gossip websites. Apparently, this human is a singer who used to be part of a group called Danity Kane. Poodle Bitch had to look them up- according to
wikipedia
, they were "[f]ormed on the third installment of MTV's Making the Band reality television series."
So, Poodle Bitch notes, Aubrey O'Day is a reality television star, like Jon and Kate Gosselin, Megan Hauserman, and Johnny Fairplay. Just so Poodle Bitch is clear on the point.
Regarding Ms. O'Day, Poodle Bitch has just seen an
article
in Us online in which she defends dyeing her dog.
The former Danity Kane singer, 25, has been criticized on some websites for constantly dyeing her 1-year-old teacup Maltese Ginger.

"She likes to have looks," O'Day tells Usmagazine.com. "It actually seems like such a taboo weird thing nowadays, but if you research online, you will see a whole underworld of dogs who are dyed."
Poodle Bitch wonders how often it is that humans cite the underworld as part of their justification for doing anything. She also wonders about a pupdog's ability to make judgments for herself regarding the use of dyes in her fur. Poodle Bitch does not know many Maltese dogs, so she
found
some information online.
The coat is single, with no undercoat, and should not be wavy, curly or kinky. It should be made of shiny, thick, heavy hair which is about 8½ inches (22cm.) long. The color is pure white, although light ivory is acceptable.
...
Prone to sunburn along the hair parting; skin, respiratory, eye and tooth problems, and slipped stifle. Some may be difficult to feed with weak, upset digestion. They may get the chills, and they experience discomfort in hot weather. Maltese should be kept out of damp areas. It is a good idea to paper-train this breed - to avoid going out in weather extremes.
Poodle Bitch is dubious that a member of a dog breed with a single coat whose skin is prone to sunburn should have her hair dyed. So, why would a Maltese want to color her hair?
The Maltese is spirited, lively and playful. Gentle, loving, trusting and devoted to its master.
Poodle Bitch often finds herself wondering about all of these dogs that are so trusting and devoted to their "master." That tends to lead to dangerous situations. If only a vet were around to properly guide Ms. O'Day!
O'Day — who is working on a natural dog dye — tells Us she makes sure her vet approves any of the dyes she uses.
Poodle Bitch wonders if "her vet" who offers approval of the dyes she uses is working on this "natural dog dye" along with Ms. O'Day, and therefore stands to potentially make a lot of money from Danity Kane wannabes? (Isn't it funny how Maltese-like humans can be? Simply saying there's a vet involved absolves all responsibility, and silences all questions- at least for Usmagazine.com.)
She changes her dog's appearance "for different occasions," she says. She recently dyed her dog green because, O'Day says, she "loves the [Boston] Celtics."
Poodle Bitch cannot tell if it is Ms. O'Day, or poor little Ginger who is such a fan of the Celtics, but she has yet to meet any dogs who have any interest in professional human sporting events. This seems like excuse-mongering to her. But the most disturbing parts of the story are:
She says she normally dyes Ginger while she's asleep because it's "hassle-free; she doesn't even know [it's happening]."

"I do it like anyone would color hair," O'Day says. "She sits on my lap, and I have a brush, and I paint it on and use foils."
Poodle Bitch has seen humans get their hair colored. She has seen the use of foils. She has seen the paint. There is no way any dog, no matter how eager she is to please, will sleep through that without some kind of medicinal help. Poodle Bitch wonders if the same vet who approves of this behavior is providing Ms. O'Day with a tranquilizer for poor little Ginger, so that she can put her dog- to sleep- so that she can dye her, and therefore promote this fantastic dog dyeing system they're creating?
Poodle Bitch would like to explain to Ms. O'Day that dogs are not merely accessories, objects for the amusement of their "owners." She would suggest to Ms. O'Day that she get a purse. You won't have to wait until that is "asleep" before you dye it.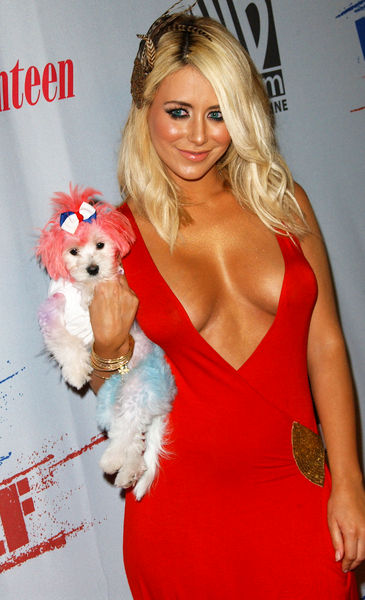 Former Danity Kane singer Aubrey O'Day and her accessory, Ginger.
Pic
source
.